Cocktail party and gala evening
The first evening (July 2), a cocktail party will take place at the brasserie Felix, next to the convention center.
Gala evening (July 4th) will take place at the Machines de l'Ile. Cocktail and diner will be outside under the naves, so plan accordingly if the weather is cool. We also have prepared some surprises for you there....
Attention: the number of people for the Gala evening is limited to 300 (first registered). The Gala evening is full
First cocktail night is 110m from the convention center. Gala venue can be reach in 30 min walk, 12 min bike, or 8 min by car from the Cité des Congrès. For people with reduced mobility, transport will be provided on request.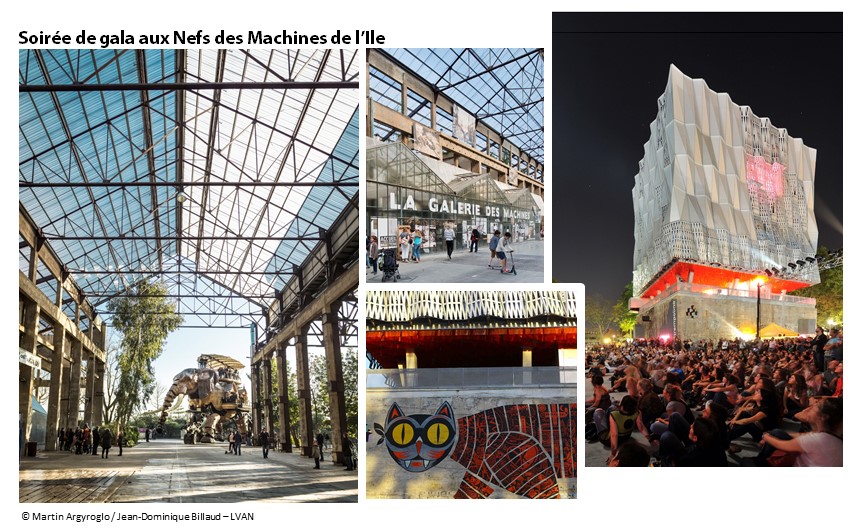 Activities
Cruise on the Erdre.
This activity is complete
This cruise, proposed by the Bateaux Nantais, allows to discover twenty castles and houses bordering the river between the city center of Nantes and Sucé-sur-Erdre. A cocktail will be offered on board.
This activity is limited to the first 100 registered.
Trail in the Artistic Nantes
This tour through the city is organized by Le Voyage A Nantes, and offers the opportunity to wander around Nantes discovering its artistic sites, its remarkable monuments and sites with unusual points of view ...
Historic Nantes
This guided tour in the neighborhoods of the historic center of Nantes allows to see the Castle of the Dukes of Brittany, the St Pierre cathedral (Gothic), the medieval district Bouffay, the island Feydeau and its buildings from XVIII century and districts such as Graslin and the passage Pommeraye from the XIX century.

Interactive map